The children and I have been working on memorizing big chunks of Scripture lately. I found that Libby was able to memorize a ton of stuff one day when she came back from school. She quoted this "prophecy" from a book about dragons she was reading with her friend in second grade.
The Lost Continent

Turn your eyes, your wings, your fire

To the land across the sea

Where dragons are poisoned and dragons are dying

And no one can ever be free.

A secret lurks inside their eggs.

A secret hides within their book.

A secret buried far below

May save those brave enough to look.

Open your hearts, your minds, your wings

To the dragons who flee from the Hive.

Face a great evil with talons united

or none of the tribes will survive

Wings of Fire Series
When I heard her reciting all that without skipping a beat, I thought, "And here I am thinking you should only memorize one cute little Bible verse at the time."
Last year – I kid you not – the three of us memorized Genesis 1. The whole chapter. It took us like a month. But like they said, Use It or Loose It.  We lost it. So this year, I'm trying to strategize better.
What we do is that I read the section we are to memorize. I explain it to them word by word so they know what it means, and get familiar with the context. Then we memorize one or two verses, depending on how long they are. The next day we go back to the verses we already know, we recite them again, and we memorize a new one. And we keep on going like that until we finish the section.
I got this idea from a podcast that you can listen to right here. I have modified this method to the way my brain works, because I memorize better by reading the text, instead of by listening to the text.
Enzo is a listener, but Libby has to see what she is memorizing. Somehow the Lord is working it all out for us. This school year, I am happy to say we haven't lost anything so far. We are spending time reviewing the verses that we had already memorized every ten days or so. As a reward for reciting them all, I give them extra time watching shows or candy.
They will do anything for extra candy.
Doing this seems like a lot of work, and it might be, but this method has actually been very helpful for us – even for Enzo – who is the most distracted 8 year-old that I know. He is a boy. He is always moving and jumping around. He seems to never be paying attention, and this drives me crazy. I just want him to sit down and listen – without even blinking. But in these eleven weeks of school, we have memorized Psalm 1, Philippians 2:3-11, Philippians 3:1-11, and Philippians 4:4-9.
In my own personal time I have memorized the first chapter of Philippians and Philippians 2:1-16ish. And I'm stuck there because I am not disciplined.
If you take the time to listen to the podcast, this women will say that memorizing Scripture this way is very powerful. It has served them well in counseling women. When you have stored in your heart not just one verse here, or one verse there – but whole sections of the Bible – you will be better equipped to pray for others, pray for yourself, and for understanding the context of a given Bible verse.
Consider this example from social media: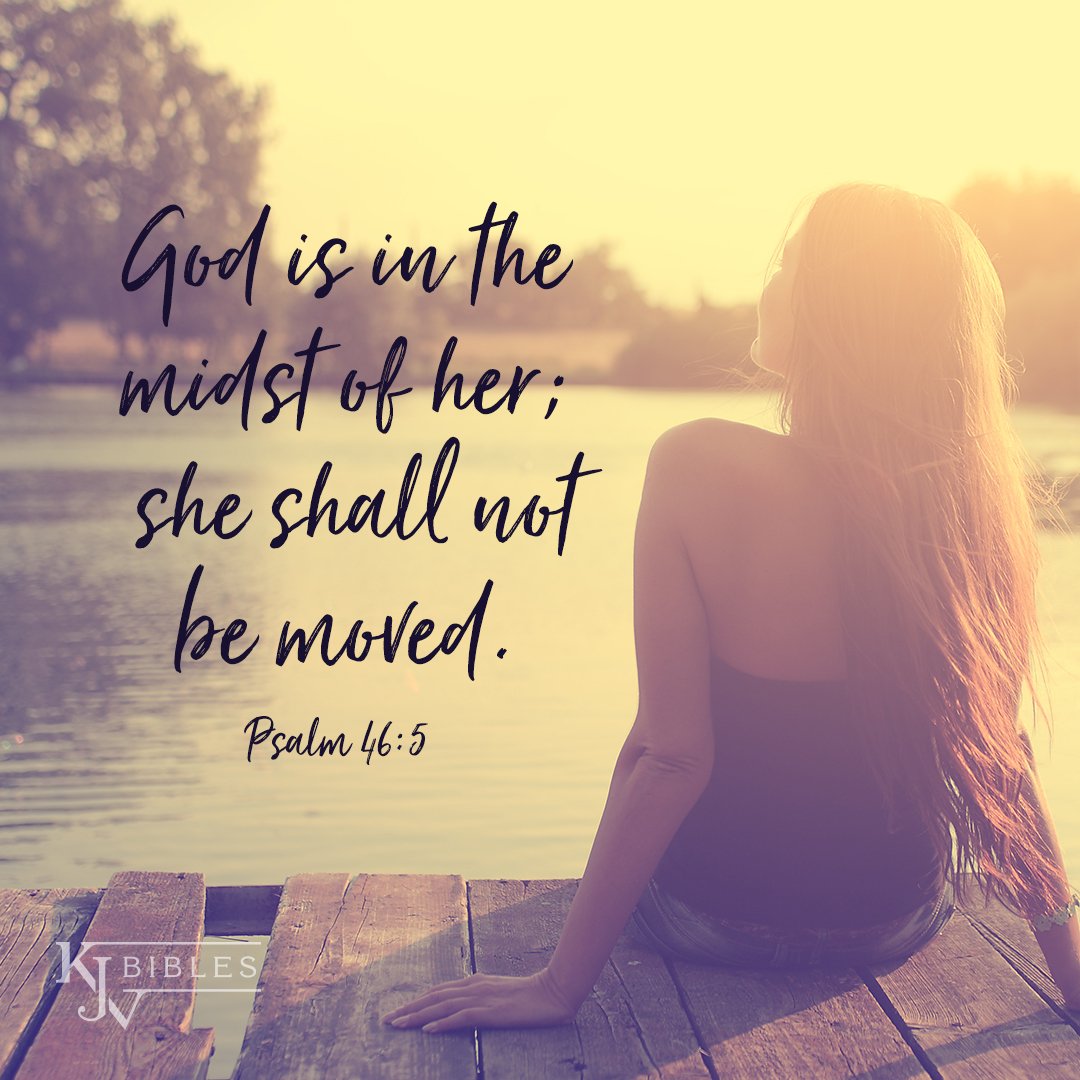 It is true. It's in the Bible, so I believe it. An image like that, however, may make the reader think that the SHE in this Bible verse is talking about a woman. We, women, want to be strong. We don't want to be moved. Some Bible versions say WITHIN HER, so that works out even better to convey the message, I guess.
God is in ME [within ME], therefore I shall not be moved. 
When you go read Psalm 46, though, you will realize that the SHE in verse 5 is not talking about YOU – an individual woman in need of self-confidence.
Psalm 46 talks about God being the refuge and strength for those in trouble. It encourages us not to fear though the earth gives way or though the mountains move into the heart of the sea. And why shouldn't we fear? We don't fear because the holy city of God is inhabited by Him. God is in the midst of HER (the city), and SHE (the city) shall not be moved. God will help HER (the city) when morning dawns (Psalm 46:4-5).
I am willing to be corrected if I am wrong. I just find it extremely hard to believe Martin Luther  wrote A Mighty Fortress Is Our God while thinking about a woman.
As Dr. Steve Lawson writes in his
blog
:
It was 1527, and the bubonic plague was sweeping through Europe. This vicious epidemic brutally struck the country of Germany.  A large number of deaths occurred because of the plague. People were living in fear. Many were escaping town in search of safety. The issue for Luther was: should he flee for the health of his family and his own preservation?  Or should he stay and minister to those who remained and expose himself to the deadly disease?

Luther made the difficult decision to stay in order to shepherd the German people. With his wife Katy, Luther turned their house into a hospital for the dying. Tragically, their young three-year-old son Hans contracted the disease and nearly died. During this season, Luther became so overwhelmed mentally and emotionally that he fainted at the dinner table more than once and had to be carried to his bed.

It was in the middle of this grim situation that Luther anchored himself to Psalm 46. In a time of weakness and pestilence, Luther wrote "A Mighty Fortress is our God" as a testimony to the strength he found in the Lord Himself. One of the verses of this famous hymn reads, "A mighty fortress is our God, a bulwark never failing/Our helper, He amid the flood of mortal ills prevailing."

It was Psalm 46 that gave Luther the inner strength he needed during this devastating plague. This psalm begins, "God is our refuge and strength, a very present help in trouble" (verse 1). Here, we see two profound truths, that God is both all-powerful and all-present.

As the psalmist writes this, the city of Jerusalem is surrounded by enemy forces, undergoing a siege. There was a very-present threat––foreign armies that threatened Israel's very existence. God was ultimately the walled fortress around the psalmist, protecting, preserving, and empowering him.

The same is true in our lives. God remains our refuge and our strength. It is in times of our weakness when we should turn to Him with the greatest trust. God is all-powerful, and He ever promises to uphold us. 
So, can this be applied to me as a woman? Sure. And it can also be applied to a man because, again, the psalmist is talking of HER as the people of God. THEY shall not be moved. You can see the application of Psalm 46:5 here.
So when I see images like that on social media, I really struggle in assuming the best of people. Who knows who makes those images, right? But I see them everywhere. There are so many false teachers who love to make us, women, the center of the universe when we are not. GOD IS.
In short, this is why we are memorizing big chunks of Scripture this year. We want to honor the Word of God, and that includes not twisting it to satisfy our fleshly passions.
I was hoping to go into how memorizing Scripture this way has been particularly helpful for me as I am studying the Book of Philippians with a commentary in the mornings. But I guess I will have to write another post on why we should go hard after Christ.
Not that I have already obtained this or am already perfect, but I press on to make it my own, because Christ Jesus has made me his own.

Philippians 3:12